Thank you for your order of Live Alerts
You're moments away from receiving your first alerts!
In order to get alerts on your device, you will need to download our free app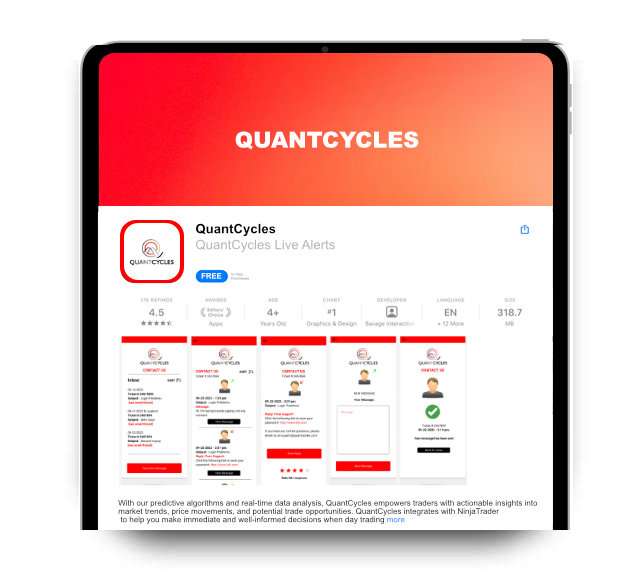 We are thrilled to express our sincere gratitude for choosing our Live Alerts service. Your decision to trust us with your alerting needs is greatly appreciated, and we are committed to delivering a top-notch experience.
You will have a welcome email confirming your purchase. If you do not see it, please check your SPAM filter.
Instant Notifications: You will receive timely alerts directly to your preferred device or platform, ensuring you never miss crucial information.
Reliability: Our robust infrastructure ensures the delivery of alerts, even in the most critical situations.
Exceptional Support: Our dedicated support team is here to assist you with any questions or issues you may encounter along the way.
Enhanced with Artificial Intelligence: QuantCycles harnesses the power of Artificial Intelligence (AI) to deliver precise and reliable market analysis. Through advanced AI algorithms, it can process vast amounts of historical and real-time market data, identifying intricate patterns and trends that may elude human analysis. These AI-driven insights provide traders with a comprehensive understanding of market conditions, helping them make informed decisions and adapt their strategies in real-time. By leveraging AI, QuantCycles ensures that its market analysis is both data-driven and highly accurate, giving users a significant edge in their trading endeavors.

Tested and refined using machine learning: Machine learning, as a subset of artificial intelligence, plays a vital role in ensuring the accuracy of our analysis. It involves developing and utilizing algorithms and statistical models that empower computer systems to improve their task performance through data and pattern analysis, all achieved without the need for explicit programming. This contributes to the precision and correctness of our analytical processes.